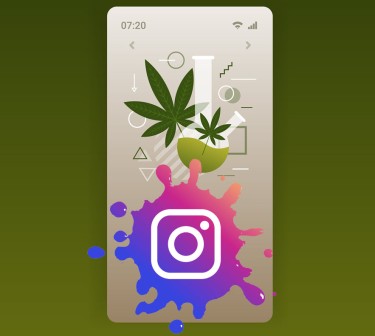 Since the advent of mainstream social media, it has become the number one mode of advertising for different brands. If you aren't on social media as a brand, then you probably don't care about reaching a broad audience. With an audience that spans beyond the reach of TV and newspapers,  everything that matters is on social media including illegal weed dealers.
You shouldn't be too shocked that illegal weed dealers are blossoming on social media. This is despite the repeated efforts of these social media platforms to illegal activities on their platforms. While it is important to state that there are conscious systems in place by these platforms to find these perpetrators, the apparent loopholes cannot be avoided. These loopholes are actively being exploited by such perpetrators and they have continued to enjoy the dividends of a broad audience to carry out their activities.
The digital world has always been a problem for lawmakers seeking to establish physical systems to deal with physical problems such as the illegal cannabis trade. An example of this is the recent issuance of licenses by the Empire State just a week ago. A total of 32 conditional adult-use licenses were issued with the aim of regulating the cannabis industry. These physical moves are made to curb the activities of illegal cannabis retailers with the use of regulations similar to those in states with legal programs. However, the desired effect is yet to be reached as some retailers easily get their done across the digital world. This makes the digital space another battleground to contend against the proliferation of these systems.
A report from Bloomberg recently revealed that a large part of illegal cannabis sales that take place in New York occur across Meta Platforms with Instagram being the most exploited. Instagram has always been a special platform when it comes to the advertisement of products and services. The interactive space allows the accurate use of videos and pictures to promote products and weed sellers are keying in too. The platform has seen a huge influx of illegal weed dealers who are targeting young people and the trend doesn't look like stopping anytime soon.
A New York cannabis grower recently disclosed to Bloomberg that he has been able to reach more people to purchase weed through Instagram. He believes this is because Meta is very good at getting themselves incorporated into the lives of people. It is now worthy of note that Mike is yet to get his license to sell weed from the state. Nonetheless, he is flourishing on Instagram due to loopholes that allow illegal weed dealers to thrive.
A quick survey by Bloomberg News on Instagram showed a great deal of sponsored posts and stories that included cannabis growers, sellers and clubs. Some of these posts eventually link to illicit cannabis sellers who portray themselves as legal weed retailers and take advantage of unsuspecting customers. Bloomberg News shared some of its findings with Meta and they have promised to remove some pages for flouting their policies. Unfortunately, these posts remain online and can be accessed which means they continue to misinform the public with nothing being done.
Meta maintains its position that marijuana content is not allowed on Instagram and that there are policies to monitor and curb it. It states that marijuana falls under its restricted goods policy along with tobacco and e-cigarettes. These goods are flagged off and so content that promotes buying, selling, trading, donating or gifting them is restricted. Hemp products on the other hand are allowed though with special restrictions on them provided THC content doesn't exceed 0.3 percent.
Rachel Hamrick, a Meta spokesperson explained the moves that Instagram is taking to curb these posts in an emailed statement. She explains that Instagram targets both ads and organic posts that flout these restricted goods policies. The body then removes such posts whenever they are found and pages that are linked to them are either suspended or brought down. This shows that the firm is doing a great deal to curb the activities yet many cannabis companies still find their way around the policies.
While digging to see how cannabis companies are avoiding the restrictions, a number of loopholes were discovered.  Some cannabis companies claimed that they avoid the regulations by putting up disclaimers that the products are not for sale. However, these pages are still linked to other external pages and phone numbers which can be reached for transactions to occur.
Another common feature is that cannabis companies have multiple backup pages which can be reached easily. The purpose of these backup pages is that the companies use them to continue reaching their audience after the main page is taken down. These affiliated pages are also taken down easily but it remains equally as easy for the cannabis companies to open other accounts and reach their populace again. These are just some of the common loopholes that such cannabis companies exploit which makes Instagram the to-go platform for illegal dealers.
Instagram is not the only platform that illegal weed sellers are maximizing presently to reach and sell to new and existing customers. Weed sellers have also shown that Telegram, Discord, Snapchat, and upstarts like WeedTube and Social Club are platforms to meet new customers. This shows that if these social media platforms don't clamp down on illegal cannabis dealers, they will easily proliferate.
Instagram remains the top platform due to its strong young user base which is the target of pot sellers. Statistics show that 35 percent of people aged 18 and 25 used marijuana in 2020. This is more than any age group that used cannabis according to the reports by the Substance Abuse and Mental Health Services Administration. Since 71 percent of people aged between 18 and 29 use Instagram, it is understandable that every pot seller wants to advertise on Instagram.
META AND INSTAGRAM ON CANNABIS, READ ON…
ARE FACEBOOK AND INSTAGRAM HOLDING BACK LEGALIZATION?