The Drug Enforcement Administration (DEA) has officially established that cannabis seeds are primarily uncontrolled and legal, even though it is still illegal under federal law. The legality still stands regardless of how much THC would ultimately be produced in buds if those seeds were grown. The DEA recently reviewed federal law and its implementing rules in response to an inquiry from Shane Pennington, a lawyer specializing in cannabinoid regulatory issues, about the legality of cannabis tissue culture, seeds, and "other genetic material" containing a maximum of 0.3% THC,.
The department confirmed that marijuana seeds were once strictly controlled, but that is no longer the case due to hemp's federal laws, as Shane Pennington discussed in an episode of his On Drugs newsletter. The US Drug Enforcement Administration (DEA) has acknowledged that marijuana seeds are not controlled substances under the Controlled Substances Act (CSA), regardless of how much THC the plant they grow into eventually produces. This is because the seed has a THC content of less than 0.3% by dry weight and thus meets the definition of hemp.
The legislative decision could have far-reaching ramifications in the future. Still, it is likely to be confined to simplifying cross-state transportation and increasing consumer sales of cannabis seeds sold by reputable online markets, such as ILGM Seeds. On the other hand, companies selling seeds must be cautious about how they market their products to clients to avoid violating other cannabis prohibition legislation.
Shane Pennington reached out to the DEA last November to inquire about the legality of cannabis seeds. Pennington told CBD-Intel that he received numerous calls as soon as the report went out. People are beginning to use his letter in various ways, and he is confident that changes will soon be visible.
Pennington anticipates that cannabis businesses will start citing the DEA's letter to support their legality in court and before state regulators. The DEA's announcement will likely lead to changes in the business, including those that affect tax implications and trademark rights on products that can now be marketed legally.
Pennington stated that he would see how various officials and judges would respond. He thinks that we will start to see this in the coming month or so.
Aside from seeds, the new DEA letter clarifies that any other substance extracted or derived from the marijuana plant, such as tissue culture and any other cellular components with a concentration of delta-9-tetrahydrocannabinol not exceeding 0.3% on a dry weight basis, meets the criteria of "hemp" and therefore is not constrained under the CSA.
Possible Opposition at the State level
Currently, transportation is the most affected sector. The advantages of reducing transportation barriers include broadening the cannabis genetic pool, leading to new and improved flavors and trends. It would also be beneficial when researching the effects of diverse strains on medical patients.
According to the DEA ruling, marijuana seeds should be allowed in and out of the United States, including across state lines. Suppose the DEA agrees to classify seeds, extracts, and genetic material with less than 0.3% THC as hemp, which is the logical decision. In that case, there should be no import/export restrictions on cannabis seeds, Pennington added. The problem is that one can never know unless it is seen in action."
Meanwhile, the official view at the state level is that there should be no federal intervention with the transportation of products such as seeds, extracts, and cellular components that satisfy the THC criterion for the hemp exemption. However, states can nonetheless prohibit products not overseen by the CSA and thus permissible under federal law. This implies that conditions will nevertheless be able to ban the transfer of illegal cannabis products through their borders.
However, according to Pennington, states tend to frequently structure their drug policies based on DEA rulings, which will almost certainly result in state-level reforms. This decision may have some influence on state statutes soon.
Managing Marketing while Selling Weed
The statement clears up the business practice for businesses that sell cannabis seeds. However, this new rule could become entangled with other legal requirements. According to Rod Kight, a lawyer for the cannabis industry, even though the sale of cannabis seeds is legal, taking part in the production of a prohibited substance like cannabis is still banned.
As a supporter of marijuana, Kight remarked to CBD-Intel, that he believes that any advancement by enforcement agencies that permits a broader reading of the legislation is typically favorable. The most significant change, in his opinion, is that companies that sell cannabis seeds will now be able to advertise that their products have a high THC potential openly. He believes this to be a trap.
Advertising the potential of cannabis seeds, such as a specific genetic strain recognized for producing plants with high THC contents, would increase demand for them. Still, law enforcement might also view it as a plot to commit a crime. According to Kight, during his interview with CBD-Intel, one can sell marijuana seeds, but naturally, there isn't much of a profit for only sources. He added that when his clients reach out to him about marketing their products, he advises them against doing that since it could lead them to problems.
Kight believes that the DEA's letter on marijuana seeds should be viewed with skepticism, given the agency's lengthy history of resisting changes to relax cannabis laws. You might want to rethink that when the DEA says anything that appears beneficial for cannabis.
Conclusion
On paper, because hemp and marijuana seeds generally contain nominal THC levels that wouldn't exceed the legal threshold, the DEA is essentially conceding that people can have cannabis seeds. This rule still applies regardless of how much THC the resulting plant might produce, as long as the seeds contain less than 0.3 percent delta-9 THC.
Of course, it continues to be federally illegal to use any cannabis seeds to grow still-prohibited marijuana. This is why Kight's warnings and call for optimum caution around the new development should not be disregarded. To be on the safer side, watching how everything plays out before putting out that advert for Cannabis seeds is your best shot.
USA CANNABIS SEED SUPPLIERS, READ ON…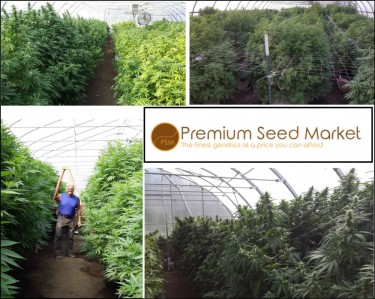 HOW PREMIUM SEEDS IN OREGON STARTED SHIPPING GENETICS!