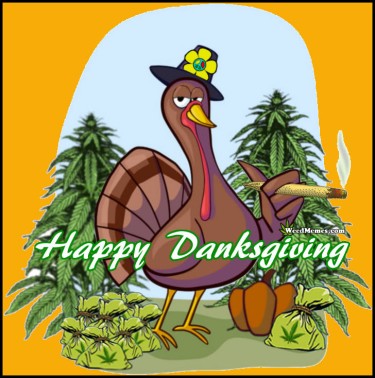 According to a recent poll conducted by vertically integrated marijuana operator Ayr Wellness as well as real-time market research organisation Suzy, cannabis users are preparing to incorporate the plant into their Thanksgiving celebrations as the holiday season is drawing ever so nearer. Despite the effect inflation would have in 2022 on consumer spending budgets, the study indicated that 90% of marijuana consumers want to purchase at least the same amount of cannabis for the festive season this year as they did in 2021. In order to share cannabis with friends and family, seven out of ten respondents stated they would stock up enough of it.
DETAILS ON THE SURVEY
More than 1,600 Americans were polled as part of this nationally representative study on their attitudes toward cannabis use throughout the Thanksgiving and holiday seasons and their shopping habits. The findings imply that marijuana may no longer be a niche product for many consumers but has evolved into a significant festive feature for many individuals as they spend time with family and start their holiday shopping.
This survey is reassuring to Ayr and the industry because customers view cannabis as a necessary commodity to include in their holiday customs rather than a luxury buy, according to an email from Jonathan Sandelman, CEO and founder of Ayr. Data demonstrates that "Danksgiving" is becoming more popular, whether to share cannabis with families and friends or deal with family conflict.
Two-thirds of those who responded to the study indicated they would buy the same amount of marijuana around the holidays as they usually do, and 24% said they would spend more money on marijuana this year than they did last year. During the holidays, cannabis users estimate expending a total of $112 on cannabis. In order to have enough cannabis to share with family and friends while they celebrate the holidays and Thanksgiving, about 70% of respondents said they would buy marijuana. Nearly a quarter of those surveyed stated that they would spend a minimum of $100 on cannabis this holiday season.
A little over a third of those who responded to the study indicated they were likely to serve food that had been infused with marijuana on Thanksgiving, and 65% said that their usage of marijuana on Thanksgiving would replace drinking alcohol. A little over half (54%) of respondents said they intended to use marijuana with friends on Thanksgiving, and 24% said it would help them deal with conflict with their relatives.
GREEN WEDNESDAY TO TAKE OVER FROM 4/20
The day before Thanksgiving, or "Green Wednesday" as the cannabis industry has termed it, is when many cannabis shoppers choose to stock up on marijuana, even though Black Friday is often considered to be the best day for holiday sales, for cannabis users, it is 'Green Wednesday'. Dispensaries and companies have seized the new chance to market their products and now frequently provide exclusive price discounts or other promos in an effort to capture a larger portion of the holiday buying market.
Cannabis users have taken advantage of Green Wednesday and Black Friday promotions, which have helped Christmas season sales surpass those of the April 20th '4/20' marijuana high holiday. According to data from marijuana market analytics company Headset, Black Friday's sales figures from last year's Thanksgiving Day were the only ones to surpass those from the Wednesday before.
According to the study, 32% of cannabis customers who have plans to shop on Green Wednesday said they would spend about $100 or more on cannabis, with 55% of cannabis consumers saying they plan on shopping on that day.  On Green Wednesday, the day before Thanksgiving, more than half (55%) of respondents indicated they intended to buy cannabis flower, and 40% said they planned to buy marijuana-related goods for both themselves and as gifts.
Cannabis is increasingly playing a central role in Americans' holiday festivities, with the average consumer estimating they'll spend $100 or more on items to enjoy, share, or gift to others, Sandelman stated in an announcement from Ayr. We anticipate the day when marijuana will be as associated with Thanksgiving as pumpkin pie is with the holiday as social stigma continues to fade.
According to the findings of another recent poll, cannabis is even making an appearance at corporate holiday parties. 14% of respondents said they had gone to a work party while under the influence of marijuana.
CANNABIS BRANDS SPECIAL THANKSGIVING PRODUCTS
You cannot disprove me if I claim that Thanksgiving is a stoner holiday. It is like the Olympics for eating; nothing will maximise your appetite more than a little cannabis as an appetiser. Additionally, it works if you include it in the meal itself.
The popular cannabis-infused turkey gravy from Kiva Confections, which had previously announced its comeback, is officially back, and the sweets manufacturer is collaborating with Cann, another well-known cannabis brand.
Cann's Cranberry Sage flavors and Kiva's cannabis-infused gravy are also included in the $34 Better Way to Holidaze Bundle. Here is a quick refresher on the social tonic if you're not familiar. The drink touts all-natural components, only 35 calories in each can, and 2mg THC combined with 4mg CBD. The best feature is that the holiday hangover won't be there when you wake up.
The company has described its Cranberry Sage tonic as sweet and just a little bit salty; this winter seasonal flavor was designed to provide you with warm fuzzy feelings all through the winter.
In regards to the turkey gravy, it contains 10mg of THC in total. The single-serve packet can be prepared by placing it in a saucepan with one cup of water and bringing it to a boil before turning it once or twice.
BOTTOM LINE
Cannabis has always been a part of the American festive seasons, as it serves as a tool to help users wind down from the year-long ups and downs and just get into the holiday spirit while blissfully avoiding family conflicts. Cannabis users now go all out in getting cannabis products on the so-called 'Green Wednesday' to enjoy and share with family and friends.
WEED ON THANKSGIVING, READ ON…
THANKSGIVING CANNABIS STRAINS, WHAT GOES BEST WITH TURKEY?