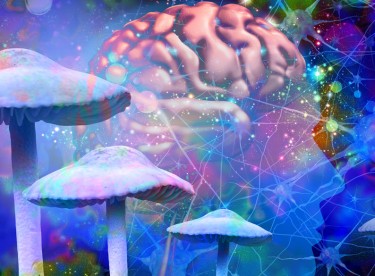 It may seem far-fetched to have a health insurance company pay for an ecstasy or magic mushroom trip, but the psychedelics market is already crunching the statistics and proposing US insurers.
Early results from clinical trials on substances like MDMA and psilocybin have been encouraging. In the middle of what is often regarded as a mental health crisis, many of these initiatives target a few of the most expensive and challenging mental health conditions while they are still happening. Researchers and executives discussed how that might convince health insurers, or "payors," to jump on board during a Perspective on Psychedelics conference in New York.
According to Michael Mullette, chief operating officer at the Multidisciplinary Association for Psychedelic Studies (MAPS), every payor is searching for mental-health treatments.
More than $200 billion is thought to be spent on mental health services annually in the US, with the Medicaid program bearing a large share of the cost. A large portion of the money spent by private insurers goes into medications like antidepressants, primarily selective serotonin reuptake inhibitors (SSRIs), which are prescribed for conditions like PTSD, anxiety, and depression. Many pay for talk therapy, which can be helpful but is an expensive and drawn-out process of recovery.
When used in conjunction with so-called "psychedelic-assisted therapy," where the medicines are supposed to increase patients' openness to mental transformation, psychedelics are being investigated as an alternative to SSRIs. Although no such therapies have been licensed as of yet, it is anticipated that they will be costly considering that counseling would be required on top of the fact that some psychedelics frequently include hours-long trips that need to be watched by trip sitters. Therefore, gaining insurer support is essential if psychedelic entrepreneurs are to achieve the widespread use they envision.
Of course, there are certain important restrictions. Additionally, psychedelic therapy providers will need to demonstrate their therapies are economical even if regulators permit them.
PROVING THE NEED FOR PSYCHEDELIC TREATMENTS
MDMA, usually referred to as Molly or ecstasy in its street forms, has been studied by MAPS as a possible treatment for post-traumatic stress disorder. If the US Food and Drug Administration grants the go-ahead, MDMA may potentially become the first psychedelic substance to be commercially available. Its clinical studies for PTSD are already far along. But because drug-assisted therapy is a fresh idea for both insurers and the FDA, it will encounter an intriguing obstacle. Mullette, who started at MAPS in March, has an intriguing background in dealing with insurance companies and bringing innovative therapies to market: At the peak of the epidemic, he assisted Moderna's vice presidents in the distribution of Covid-19 vaccinations.
Regarding his organization's interactions with insurers thus far, Mullette stated that they were very encouraged by their statistics, but he did not specify with whom MAPS may have provided data.
The course director for cost-effectiveness analysis in public health and medicine at the University of California in San Francisco, Elliot Marseille,  gave a different presentation at the conference that stated that the results do indeed appear promising. Marseille, who works as a specialist for MAPS, has already conducted research on low-cost treatments for AIDS and HIV.
In his presentation, Marseille displayed slides that predicted that over a 10-year period, psychedelic treatments may save insurers between $39.5 million and $46.7 million for every 1,000 patients. (However, he acknowledged that given the widely varying cost scenarios, it is still difficult to forecast.) Marseille said he thinks insurers will be motivated to offer them for other than first-order reasons because mental health issues frequently mix with other issues like diabetes.
The majority of the anticipated cost savings, according to him, are in the physical realm as opposed to the psychiatric.
Along with Marseille, the chief executive officer of the Network for Excellence in Health Innovation, a nonprofit health policy institute, Wendy Warring, stated that having insurers on board is crucial for ensuring that benefits are shared by all people, not just the wealthy who can afford hours-long psychedelic trips combined with therapy.
GROWTH / MOVEMENT OF PSYCHEDELIC-ASSISTED THERAPY
The psychedelic industry still lacks the endorsement of insurance companies, a crucial component of widespread healthcare reform, even as the public continues to place increasing trust in psychedelic-assisted therapy backed by solid research. Florida and Hawaii's respective legislatures introduced identical legislation this month, while Oregon recently began a two-year period to develop an effective structure for psilocybin-assisted therapies. Now it appears that some legislators in Iowa and Texas are at least attempting to copy this model. A legal framework for dispensing psychedelic medications is inevitable, at the very least in Oregon. What must occur before these chemicals are recognized by the medical community as treatments that are covered by insurance?
Insurance firms frequently serve as gatekeepers for patients seeking medical care in North American healthcare systems, for better or worse. Although the healthcare systems in America and Canada differ significantly, insurance firms are a part of both systems and they both provide healthcare to differing degrees. Although the scope of coverage for medication and therapies varies among the present frameworks, psychedelic-assisted therapy is quickly developing as a novel pairing of medication and therapy that has never been covered by insurance.
ARE INSURANCE COMPANIES GOING TO JOIN THE PSYCHEDELIC MOVEMENT ?
Psychedelic-assisted therapy's superior efficacy to conventional drugs like antidepressants may be what most persuades insurance companies to offer reimbursement. For the majority of insurance companies, cost-effectiveness is a given. However, legal restrictions and present drug prohibitions in North America, on both the Canadian and American sides, may prevent them.
The co-founder of Mr. Psychedelic Law, Dustin Robinson, predicts that insurance will play a significant role. Remember, the drug [psilocybin] is unlawful under federal law, he cautions.
The U.S. Controlled Substance Act classifies psilocybin as a Schedule I substance, and the Canadian Controlled Drugs and Substances Act classifies it as a Schedule III substance.
Robinson expresses the viewpoint of the United States, stating that In Oregon, the state is trying to negotiate with the insurance providers to get it covered, which is not going to be simple. Psilocybin won't be covered by insurance companies because it is an illegal substance, just like cannabis isn't being covered.
BOTTOM LINE
Healthcare insurers are finding it difficult to take on psychedelic trips because the psychedelics are still largely considered illegal in the country. However, researchers are looking to prove the health benefits of psychedelics in order to get it under the health insurance policy.
LEGALIZING SHROOMS FOR MEDICINE, READ ON..
WILL COLORADO LEGALIZES MUSHROOMS FOR MEDICINE, READ THIS!