The use of domestically manufactured medicinal marijuana products is now permitted in New Zealand, as of last week. putting an end to patients' dependence on foreign medical cannabis products. Starting on September 9, the Ministry of Health opened up access to regional medications, creating a brand-new potential for New Zealand marijuana producers and growers.
Any registered general doctor in New Zealand may recommend cannabis-based drugs to any individual to treat any illness in accordance with the country's legalized medical cannabis regulations. Tim Aldridge, managing director of marijuana producer Puro New Zealand, points out that since 2017, only foreign cannabis medications have been authorized for usage by patients.
Aldridge stated that up until now, New Zealand patients could only receive medical marijuana grown elsewhere, with the great bulk being sourced from Australia and Canada.
On the South Island of New Zealand, Puro New Zealand's outdoor farm produces cannabis that is grown naturally. Helius Therapeutics, a company that produces cannabinoid pharmaceuticals at its plant in East Auckland, purchased cannabis from the company earlier this year under a multi-million dollar, five-year contract. The alteration in the law now enables New Zealand patients to get access to the company's products, according to Carmen Doran, CEO of Helius.
According to Doran, the legislative goals of the Parliament for 2018 were to increase affordability and accessibility. The Medical Cannabis Scheme that followed has likewise aimed for locally produced and farmed cannabis medications. It's fantastic that the long-held national goal of better serving Kiwi patients is now a reality.
The fact that many people who have long been waiting now have legal access to cannabis products created in New Zealand and farmed there is fantastic news, said Doran.  Medical marijuana is the only option for cannabis fans as recreational cannabis was turned down by New Zealand voters.  Although private growers have been giving and selling cannabis in certain areas of the country such as the famous "Green Fairy of New Zealand" stories continue.
The decision was made by the Medicinal Cannabis Agency (MCA) of New Zealand, which also gave the go-ahead for the local extraction and production of Helius' Full Spectrum CBD medications.
PRODUCTS AUTHORIZED FOR LOCAL MARKET
The Ministry of Health informed Helius on Tuesday that two of its drugs had passed tests for quality criteria, which must be satisfied before cannabis products may be sold locally following 2019 laws. There are currently 35 cannabis businesses operating in New Zealand, with Helius Therapeutics as the biggest.
In July 2021, Helius became the first medical cannabis company in New Zealand to receive a GMP License for Producing Medicines. Three months later, the company launched its first products. South America and Europe have previously been designated as the company's top international markets, therefore the new items will first be introduced in New Zealand prior to getting distributed globally.
Getting approval for genuine Home-grown medical cannabis products is a big accomplishment for our business, Doran stated. Indigenous patients and their supporters have pushed tenaciously for truly Kiwi items that are both of great quality and at reasonable prices.
Aldridge claimed that it took his business four years to get its practices up to official requirements. Aldridge stated that It hasn't always been easy sailing.  It has been a huge task to navigate this new market, understand the regulatory framework, and produce a fresh crop at scale.
Patients will soon benefit, he claims, even if creating a local infrastructure for cannabis manufacturing has not proven simple. Patients can expect to pay half as much for locally made cannabis treatments as they would for imported ones.
According to Doran of Helius, an indigenous source of CBD and other marijuana products will help guarantee that New Zealand patients have access to their medications. Doran noted that importing cannabis products from foreign suppliers over the last two years has been hampered by global logistical issues.
As COVID's effects on supply chains continue, there have been noticeable delays and problems in the accessibility of imported goods, according to Doran. The absence of products that improve people's lives is saddening for both prescribers and patients. Products made entirely in New Zealand will aid in resolving such problems.
GOVERNMENT GRANT TO BOOST MEDICAL CANNABIS SECTOR
To aid the developing business, the government of New Zealand is giving a $13 million grant to Puro, one of the nation's major organic medicinal cannabis growers.
According to a news statement from the company, the financing will assist Puro in developing production systems, supporting skills and training, investigating contract growth, and identifying pathways to market. The award is a game-changer that will give New Zealand patients better access to locally produced and manufactured medicine and open the door for external trade success, Tim Aldridge said in the statement.
Being one of the first medical cannabis businesses in New Zealand meant that they had to surmount some significant obstacles; it wasn't easy, Aldridge said. With the help of this program, we'll produce a helpful manual on organic production for Puro and our sector. Additionally, the award will assist Puro in creating the necessary IP and post-harvest processing technology to create quality organic cannabis flowers to fulfill rising domestic and international demand.
According to the company's statement, the money would also enable Puro to create distinctive varieties and seed stock for New Zealand's medical cannabis business.
According to Aldridge, the cultivation team is investigating and developing the therapeutic cannabis strains most appropriate for New Zealand's particular climate." The money will speed up the creation of a sizable genetic inventory of cultivars to benefit the cannabis sector in New Zealand and set our products apart in global markets.
The grant, according to New Zealand's Agriculture Commissioner Hon. Damien O'Connor could assist the nation's medical cannabis business in becoming as prosperous as its wine business. O'Connor said in a statement to the public that this is the right time to expand this high-value sector, as the global market for medical marijuana takes flight while New Zealand is experiencing an export boom." This project "would bring enormous scale to this new sector, delivering domestically sourced medical marijuana for Kiwi patients in pain and intriguing export potential in a worldwide growth market, offering additional diversification of export and land -use opportunities."
BOTTOM LINE
Alongside the legalization of medical marijuana, the Government of New Zealand has approved its first home-grown medical cannabis products. This will aid in not only generating foreign exchange capabilities but more importantly, making medical cannabis products easily accessible and cheaper for indigenes.
NEW ZEALAND VOTES ON CANNABIS, READ ON…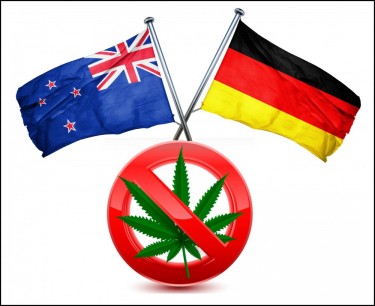 NEW ZEALAND VOTES NO ON RECREATIONAL CANNABIS, WHY?