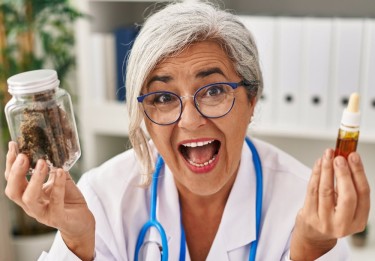 Is it a problem that scientists find THC in over 60% of CBD products they tested?
There is every possibility that when you purchase a CBD product from your local supplements or grocery store, you could be getting a little something more than you bargained for, a new study cautions. According to reports from researchers in the journal Drug and Alcohol Dependence, up to 60% of CBD products examined in the lab also contain tetrahydrocannabinol (THC), the chemical compound in weed that makes one high.
Short for cannabidiol, CBD is the second most predominant active ingredient in the Cannabis Sativa plant, which can also be called marijuana or cannabis. Unlike cannabis which gives a strong intoxicating effect when smoking due to the presence of tetrahydrocannabinol (THC), this isolated compound does not give a high when consumed.
PREAMBLE TO THE STUDY
According to Shanna Babalonis, the senior researcher and an assistant professor of behavioral science at the University of Kentucky College of Medicine, a majority of the products contain only trace amounts of THC. Still, those trace amounts are enough to gather in your body, and as a result, you can fail a drug test. She claimed that using a CBD product just randomly bought at a store might put military personnel, professional and amateur sports, and persons involved in legal conflicts like child custody battles in danger without them being none the wiser.
"The Olympics forbid the use of THC. A lot of other sporting organizations forbid it. However, athletes utilize CBD since it aids in their recovery and other aspects of their training, "added Babalonis. Therefore, I believe that one of the most important lessons to be learned from this research is that the general population has to inquire about the presence of THC in CBD products.
CBD or Cannabidiol is a chemical compound in cannabis that does not make you intoxicated. Instead, it has been praised for having a number of possible health benefits.
THE STUDY
The senior researcher, Shanna Babalonis, and her associates purchased eighty different CBD products for this investigation from Kentucky shops or online retailers. To precisely ascertain whether each product contained any THC, nine analyses were performed on each one.
In addition, Epidiolex, the sole CBD medicine on the market with approval from the Food and Drug Administration, was put to the test. Epidiolex is a medication that is given to treat epileptic seizures, and the production of the drug is strictly controlled.
The scientists discovered that Epidiolex only comprised 0.022 milligrams of THC per milliliter, which is barely noticeable. So, using that background, we compared all the other CBD products, Babalonis added. We discovered this in the FDA-approved product that underwent quite rigorous controls. They discovered that fifty-two out of the eighty CBD products had some THC in them, and all but five of those had amounts higher than in Epidiolex.
Associate vice president of consumer clinical content development at the Partnership to End Addiction in New York City, Pat Aussem stated that if a person does not have a tolerance for THC, these trace quantities can build in a user's fat cells over time, may have an effect on them. She wasn't involved in the research.
According to Babalonis, several of the CBD products had levels of THC that might make some consumers intoxicated, most especially if they had never used marijuana before. Eleven products contained more than one milligram of THC per milliliter, while one product had more than two milligrams per one millimeter. This is of great concern because many older individuals take CBD along with numerous other drugs, and their products may include significant doses of THC, Babalonis added. She could not speak on the reason why so many CBD products contain THC.
In order to find and buy CBD products with CBD content on the packaging that was available for online retail purchase, another researcher,  Bonn-Miller, and his study team searched the internet. More than 42% of the items were under-labeled, meaning they included more CBD than was reported, according to the team's analysis of 84 products from 31 different companies. Another 26% of the items bought had incorrect labels, which meant they contained less CBD than was claimed. Their result was similar to that of Shanna Babalonis.
THE CAUSE AND POSSIBLE REMEDY FOR THIS
Babalonis stated that it is certainly possible to take out all the THC. About 30% of all the products that were tested did not have any THC in them. Babalonis added that the cause of this phenomenon could be poor quality testing and sloppy manufacturing processes, but she suspects that some instances might involve manipulation by the consumer.
Just to be a little bit pessimistic, we could assume that if an individual feels an effect from something, if they experience an impressionistic effect, they might be inclined to think that the product is effective, said Babalonis. On the other hand, if an individual does not necessarily experience any effects from something, they would be inclined to think that the thing does not work.
These outcomes indicate the need for more stringent rules for CBD products, both Aussem and Babalonis stated.
Customers should receive realistic marketing claims, and if they choose to purchase CBD products, they should be informed of all ingredients, according to Aussem. CBD products have been on the rise for a while, marketed for an assortment of ailments without studies to back it and without restriction on quality control, one expert says.
Twenty-one of the examined goods carried the "THC Free" label. The investigation found that five of these had THC levels that could be detected.
When purchasing a drink at the grocery store, Babalonis stated, You would expect to see that there is no alcohol in it when it says there is no alcohol in it. You would not drink it expecting to experience the effects of alcohol or even test positive for alcohol on a Breathalyzer. The same thing applies here.
BOTTOM LINE
After reading this article, I would have to tell you to think twice before you purchase a seemingly ordinary over-the-counter CBD product, as research shows there is more to them than meets the eye (literally). Suggestions that will go a long way in dealing with this occurrence are the provision of more stringent rules for the manufacturing of CBD products and a quality testing process acknowledged by the F grade given to them.
MORE ON THC IN CBD, READ ON…
THC HAS MORE MEDICAL POTENTIAL THAN CBD? SAY WHAT?