If you are a true cannabis aficionado, you are probably always on the lookout for new products that will enhance your high, and there are plenty of options these days. Medical marijuana and recreational dispensaries are exploding with new cannabis innovations like sticky live resin dabs, mind-bending shatter, edibles of every kind, and even transdermal patches.
One product you may have overlooked, however, is CBD flower. Many cannabis-lovers pass up this tasty addition to their repertoire simply because of the fact that it has little to no THC.
However, a good CBD flower has plenty to offer even the most hardcore potheads. Low-THC hemp that has been properly grown and cured to preserve or enhance its natural terpenes can help you relax your way through your day without feeling foggy. It can be combined with marijunana to help you get the most out of your buzz, and it is versatile enough to use for a wide variety of feel-good effects.
Keep reading to learn the top 5 CBD flower brands to try, what to look for to know you are getting the best and tastiest nugs available, and the benefits of focusing on terpenes rather than THC alone.
1.Bonata – Best CBD Flower of 2022
It just takes one whiff of the buds that come from Bonata to know you're onto something special. These potent little CBD flower nugs are pungent in all the good ways, and they are covered in sugary trichome deliciousness.
Bonata focuses on just smokable CBD products, so they've gotten their strategy down to a science. They start with hemp grown by small cultivators in indoor facilities for maximum environmental control, and they finish by taking the time to properly cure before packaging or processing.
The result is a CBD flower that is packed with the terpenes that will help you feel your best (or get your best buzz) while delivering a dose of all-natural wellness to boot. And you never have to worry about mixing seeds up in your grinder, because these nugs are all seed-free.
If you are looking for a pick-me-up to start your day off right, try their sativa-dominant Sugar Queen 2.0 hemp flower strain. Or, if you are looking for something to mellow you out after a long hard workweek, their popular indica hemp flower, Dream Berries, is packed with relaxing myrcene—known for inducing couch lock.
No matter how high your cannabis aspirations are, you're sure to find something you love from Bonata!
This brand has been around for a while, and it makes every form of CBD you can imagine, from oils and topicals, to teas and lotions, and even somd CBD products for Fido. But the thing to love about CBD American Shaman is its prerolls.
You don't have to grind, roll, or pack when you want a hit of green. Just light up these CBD joints and you're on your way to feeling great. If you're looking for something different, they also sell CBD kief.
Unfortunately, none of CBD American Shaman's CBD flower descriptions offer any information on strain or effects. So it's hard to tell what to expect when you try their nugs. However, the company pledges to use only the most reputable growing, harvesting, and processing practices, so you're certain to get a safe, quality product when you buy CBD flower from CBD American Shaman.
If you love the taste of hemp mixed with other flavors, the flavor sampler is a great way to go, with cherry, grape, menthol, and original. And you can even buy prerolls by the carton from this brand.
3.Absolute Nature CBD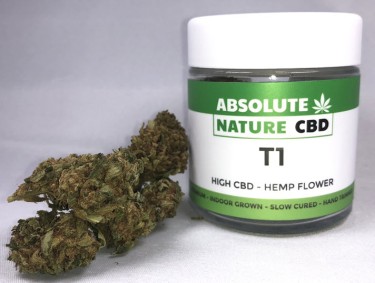 Absolute Nature CBD starts its quality process by carefully vetting every grower it works with. The brand works to foster great relationships with its cultivators and with its customers. And you never have to worry about getting a contaminated or subpar product, because Absolute Nature CBD tests its products the whole way through the process.
Once the organically-grown hemp is harvested, it goes through one final test with third-party labs to ensure it is free of anything that might harsh your vibe like pesticides, heavy metals, molds, and mycotoxins.
You'll always know what to expect when you buy CBD flower from this brand, because it's in the description. The strain or hybrid strain mix, dominant terpenes, total CBD concentration, effects, and even aroma are all spelled out for you for each strain on the website.
If that's not enough, their buds come in a glass jar that's perfect for storage and recycling.
4.Cheef Botanicals
If you are looking to add sheer variety to your stash box, then Cheef Botanicals is worth a look. This brand was founded by cannabis enthusiasts who are on a mission to educate the world about the healing benefits of our favorite plant.
The website is a great resource for learning more about CBD and good dosing guidelines, and browsing through the selection of CBD flower is almost as good as having the real thing in front of you with the enormous selection of strains.
Each strain includes a detailed description of the plant's genetics, as well as a terpene profile and description of the effects you can expect. Though, some of the strains have the same names as some popular marijuana strains like Sour Diesel and OG Kush. So, as you shop, try not to be too disappointed to learn that these do not have any tangible amounts of THC in them.
5.Weed.com
While Weed.com is not one specific brand, it's worth a mention for its variety and for its mission. This site that focuses on partnering with the best cannabis product suppliers in the market was founded by a former physician after he saw the benefits cannabis provided to his HIV patients.
The company is run by a group of advocates who are passionate about destigmatizing cannabis and working with communities to provide safe, legal access to the healing properties of the astounding plant medicine.
Check out Weed.com for a wide array of CBD flower, Delta-8 flower, CBG flower, prerolls and more.
MORE ON CBD FLOWER, READ ON…
WHAT IS THE COST VALUE IN CBD FLOWER RIGHT NOW?