Best CBG Capsules
CBG (stands for cannabigerol) is extracted from hemp and marijuana plants that have been harvested early.
Capsules are a great form factor for anyone looking for a no-frills, easily-transportable option with good bioavailability. Taking CBG orally is the method most commonly used in studies of CBG thus far.
For this list, we omitted companies that didn't provide proof of CBG levels (many products contain far less CBG than advertised).
1. Nuleaf Naturals Full Spectrum CBG Capsules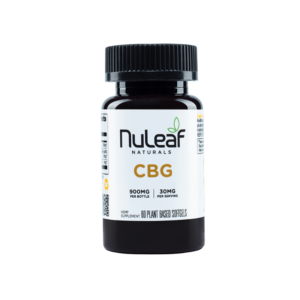 $34.65 – $161.10
NuLeaf Naturals

NuLeaf Naturals Full-Spectrum CBG Capsules 20 – 120 capsules

| | |
| --- | --- |
| Total CBG: | 300 – 1800 mg |
| Potency: | 15 mg/capsule |
| Cost per mg CBC: | $0.09 – $0.12 |
| Extract type: | Full-spectrum |
Nuleaf Naturals' full spectrum CBG capsules are some of the most densely packed CBG dosages you'll find on the market across all product types. Using extracts of the whole plant so you can take advantage of the cannabinoids and terpenes that enhance the effects of CBG, these capsules are ideal for a low-maintenance, consistent regimen of CBG.
Choose from 300, 900, or 1800 mg (dosed in 15 mg pills) of pure CBG, mixed only with the naturally occurring cannabinoids from the hemp plant. Since this is made with a vegetable glycerin, the bioavailability — a.k.a., the amount of CBG your body actually absorbs after first-round digestion — is likely higher than other forms of CBG.
2. CBDfx Morning Capsules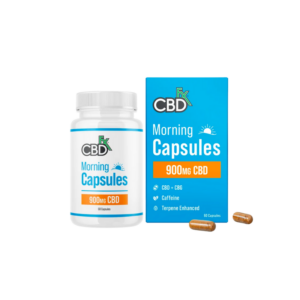 $69.99
CBDfx

CBDfx Morning Capsules 60 capsules

| | |
| --- | --- |
| Total CBD: | 900 mg |
| Total CBG: | 150 mg |
| Potency: | 17.5 mg/capsule (CBD+CBG) |
| Cost per mg cannabinoids: | $0.06 |
| Extract type: | Broad-spectrum |
If you're adding CBG to your CBD regimen, CBDfx's Morning Capsules are an excellent pick. Not only are they chock full of 30 mg of CBD to calm your nervous system and 5 mg of CBG to help you focus, but there's also extended-release caffeine and L-tyrosine in each capsule.
This powerful concoction should be taken in the morning, of course, and is known for helping people focus up for long work days or creative bursts. Since the caffeine inside is in a capsule, it won't be digested as quickly as with a cup of coffee or matcha. That means you won't slog to a crash in the afternoon, but rather, you'll continue to absorb the caffeine throughout the day.
3. Extract Labs Cognitive Support CBG Softgels – Full Spectrum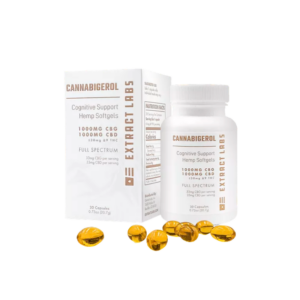 $99.00
Extract Labs Cognitive Support CBG Softgels 30 capsules

| | |
| --- | --- |
| Total CBG: | 1000 mg |
| Total CBD: | 1000 mg |
| Potency: | 33 mg CBD and 33 mg CBG/capsule |
| Cost per mg cannabinoids: | $0.04 |
| Extract type: | Full-spectrum |
Extract Labs has an impressive line of CBD products, so it's no surprise that their CBG offerings are also of the highest caliber. The Cognitive Support soft gels are made with a 1:1 ratio of CBD and CBG, but that doesn't mean they don't pack a punch.
With 33 mg of both CBG and CBD in each capsule, made from a full-spectrum plant so you can harness the entourage effect, these capsules will deliver the benefits of both compounds. Of course, you can always take multiple capsules to find the perfect dosage for you.
4. Fern Valley Farms CBG Capsules Plus Terpenes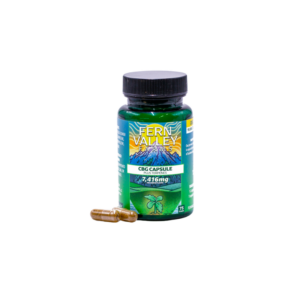 $50.00
Fern Valley Farms CBG Capsules Plus Terpenes 75 capsules

| | |
| --- | --- |
| Total CBG: | 7,416 mg |
| Potency: | 98.8 mg/capsule |
| Cost per mg CBG: | $0.001 |
| Extract type: | Full-spectrum |
Fern Valley Farms has one of the most interesting CBG capsules on the market, using CBG kief to derive their CBG. Seventy percent of the capsule's CBG comes from kief, which is filled with terpenes that contribute to the effectiveness of cannabinoids, and 30% comes from CBG flower.
These capsules are mighty, with 98 mg of CBG per capsule. They're also mixed with myrcene, limonene, caryophyllene, and terpinolene, which give the capsules a pleasant smell (and a host of added antibacterial, anti-inflammatory, antioxidant benefits).
They're also one of the least expensive CBG capsules on the market at $50 for nearly 7500 mg of CBG.
5. Cheef Botanicals CBG Capsules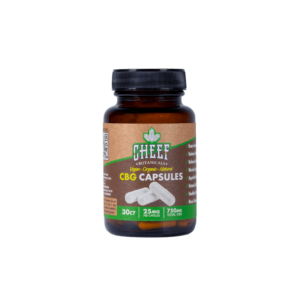 Cheef Botanicals CBG Capsules

If you're looking for high-strength capsules with just CBG, Cheef Botanicals is the place to go. With potencies ranging from 750 mg per bottle (25 mg per capsule) all the way to 3000 mg per bottle (100 mg per capsule), this line is ideal for experienced CBG users.
Cheef Botanicals is a vegan and cruelty-free company, and their capsules are all 100% THC free—perfect for anyone who doesn't want to chance taking any THC by accident.
Cannabigerol, or CBG, is the precursor to most cannabinoids like CBD, THC, and CBC.
As cannabis plants grow, the CBG inside starts transforming into other cannabinoids. When cannabis plants are fully mature, only trace amounts of CBG remain.
As such, most CBG products are made from plants harvested several weeks early, so they have the highest possible CBG content. Other farmers are genetically modifying and breeding strains with high CBG concentrations through the maturing process.
Related: Best CBG Hemp Flower Strains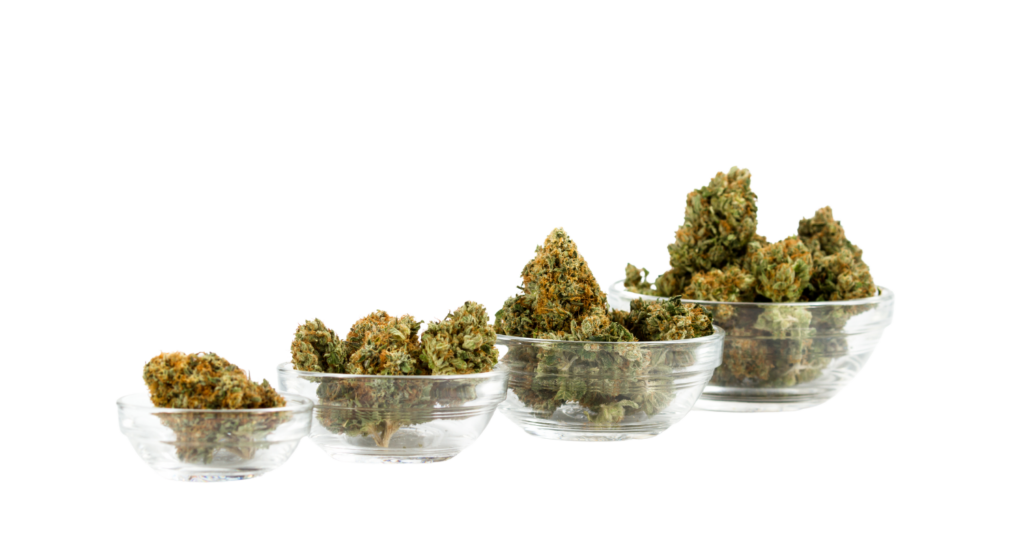 CBG doesn't have any psychoactive effects, just like CBD, CBC, and CBN. However, it doesn't quite feel the same as those other compounds.
Similar to CBD, CBG doesn't have an instantaneous effect like the one you associate with marijuana and THC. Some people say they don't notice the effects of CBG until they look back at their last few hours and realize they've been especially focused or compare chronic pain to a day when they didn't take CBG.
CBG's most promising use so far is for glaucoma. The most common form of glaucoma, a degenerative eye disorder, causes ocular pressure and eye pain in patients. Some glaucoma sufferers have reported relief less than an hour after taking CBG.
There aren't a lot of studies on CBG yet, but here's what we know so far:
CBG won't get you high.
CBG can stimulate your appetite.
CBG reduces the psychoactivity of other cannabinoids.
CBG can help you focus and give you more energy.
CBG is a unique compound with a distinct set of benefits compared to CBD and THC.
CBG can be used to enhance focus and energy levels, reduce inflammation, lessen pain, and reduce intraocular pressure in glaucoma sufferers.
Here's what the science says about the benefits of CBG.
The main benefit of CBG is its ability to enhance mental and physical energy levels. What makes it unique is that, unlike conventional stimulants (such as caffeine), CBG appears to prolong the amount of time it takes to burn out rather than directly stimulating the brain (which often leads to unwanted side effects).
CBG has energy and focus-enhancing effects, which is super useful for people who enjoy the effects of compounds like CBD but dislike the sedative effects.
CBG isn't just a stimulant, though. Instead of stimulating the brain directly, as caffeine does, CBG provides higher energy levels overall. That means the effects last longer and don't result in a crash from too much brain activity at once.
The compound binds to the alpha-2 adrenergic receptors, which are responsible for the regulation of energy metabolism, learning and memory neurotransmitters, and synapse transmission.
A study of CBG showed that it reduces intraocular pressure, giving glaucoma sufferers relief from the constant eye pain.
CBD isn't effective for treating glaucoma, and some studies point to worsening intraocular pressure after taking CBD. While THC is effective in reducing intraocular pressure and lowering pain, it does have psychoactive effects, so some sufferers stray away from it.
As a non-psychoactive alternative, CBG is effective, and it can be used alongside CBD to take advantage of both compounds at once.
Related: Cannabinoids & Glaucoma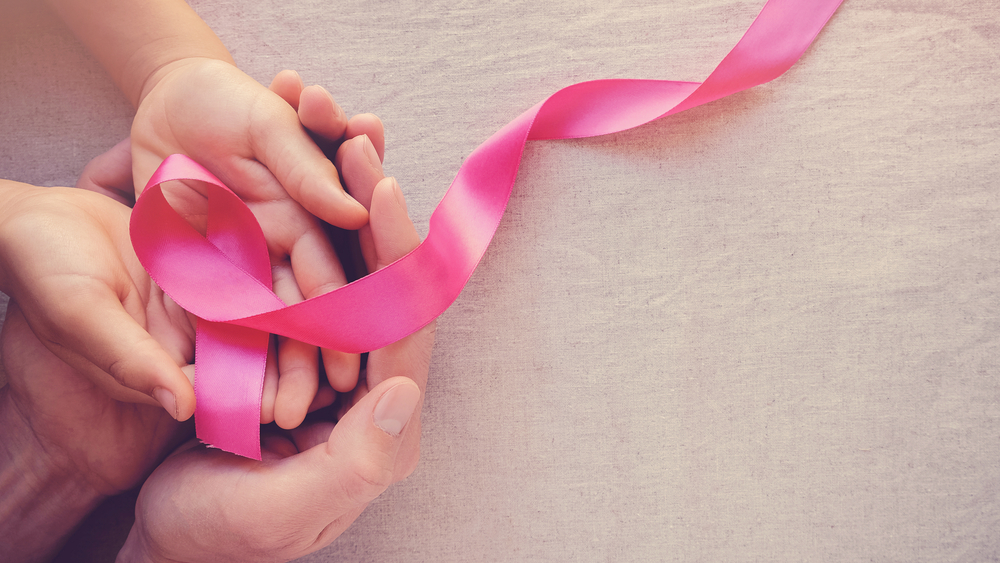 While it isn't clearly proven yet, there are studies that suggest CBG may slow cancer proliferation in humans. One study successfully did so with mice, who showed less cancer growth after taking CBG regimens.
CBG for cancer is currently being studied in vitro and using animals, but the results are promising. Scientists believe that CBG interacts with the TRPM8 ion channels, where certain cancer cell lines grow and proliferate, to ultimately slow growth.
Related: Can Cannabinoids Help With Cancer?
It seems as though each cannabinoid has a distinct impact on appetite, and CBG is no different. Unlike CBD, CBG is a potent appetite stimulant, which can be helpful for people with anxiety that causes a lack of hunger or folks in eating disorder recovery.
Of course, THC can do a great job as an appetite stimulant, but the psychoactive effects turn some users off. CBG is a great alternative for these individuals, and it can be combined with THC if you still want to get high.
CBG products aren't made with a standardized manufacturing process in the US. That means you'll likely find lots of hemp products when looking for CBG, but they don't specify how much CBG is actually inside.
Here's what you should keep in mind when you're shopping for CBG capsules, whether you'd like them on their own or combined with other cannabinoids.
Related: Best CBG Concentrates
Third-party lab testing is an important measure of credibility and safety for any hemp product. If a company hides or doesn't provide their lab tests, we recommend shopping somewhere else for your cannabis products.
These tests provide unbiased reports on how much of each cannabinoid is present in every single batch of a product. That way, you can know for sure that you're getting 1000 mg of CBG as opposed to 1000 mg of hemp, which could include any number of compounds in any concentration (except for THC).
They also test for any unnatural or foreign substances in the capsule itself, so you know you aren't eating something like a capsule of palm oil each day.
The federal government passed the 2018 Farm Bill, establishing a regulatory process for hemp plants in the US. When you buy hemp grown in the US, you can be absolutely positive that the plant adheres to federal standards for safety, quality, and care.
Because hemp is totally legal in the US, you shouldn't ever need to buy hemp products grown in another country. Sometimes, foreign hemp products are contaminated due to air pollution or lack of regulation around the farming of hemp plants.
Since many countries don't have national hemp farming regulations, it's best to always get your CBG from US-grown plants. This will always be clearly advertised on reputable CBG sites.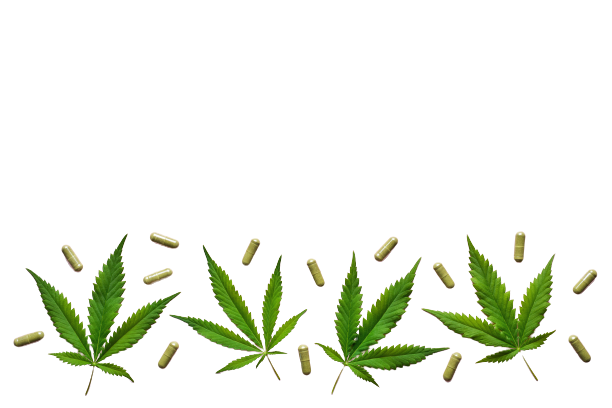 CBG's potential comes from its ability to address issues that other cannabinoids haven't been able to treat. Because of its non- and anti-psychoactive traits, it can be used in place of THC or with it to lessen its psychoactive effects.
The main use of CBG is to help improve mental and physical energy levels, focus and concentration, and overall neurological health.
We can't wait for more studies to come out about CBG's effectiveness because it's already shown promise as one of the best cannabinoids for increasing focus, reducing intraocular pressure, and stimulating appetite.
The post Top 5 CBG Capsules For 2022 appeared first on Daily CBD – English.