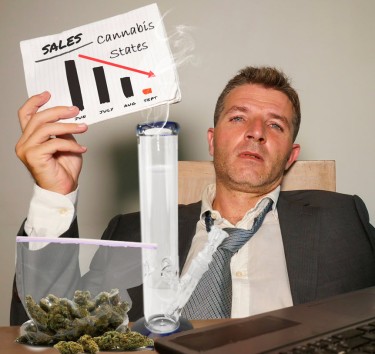 For the first time since opening their individual commercial retail operations for adult use, five of the country's oldest marijuana marketplaces are seeing year-over-year sales declines.  Mature markets tend to create informed consumers to such things as prices, the black market, and home growing.
After pandemic peaks translated to record growth across most of the sector in 2021, Colorado and Oregon dispensaries are now bearing the brunt of the 2022 correction, while Nevada and Washington's retailers are also on track to report double-digit declines in aspects of percentage decreases to their sales totals this year. Furthermore, the regulated market is contracting in California, which started adult-use sales more recently, on January 1, 2018.
According to Mitchell Laferla and Cooper Ashley of cannabis data and analysis firm Headset, age has a bearing on 2022's tendencies.
According to the researchers, the level of market maturity "is the most contributing element to how a market is increasing this year." The division is more about established markets (Massachusetts, Illinois, Michigan) against emerging areas (Washington, Colorado, Nevada, Oregon, and California).
The adult-use retail markets in Michigan and Arizona grew by more than 55% in the first nine months of 2022 (relative to 2021). Through the third quarter of 2022, recreational and medical sales in Michigan increased by 27% over 2021, while they increased by 5.4% in Arizona.
According to the Headset analysts, Michigan, the state with the highest growth in 2022, is still expanding to meet the demand in the 3-year-old recreational market. "For instance, they are observing double-digit declines in Washington, which has a very mature adult-use market that dates back almost a decade. Washington's market converged on local demand several years after sales started, so without the "growth phase" experienced in Michigan, Massachusetts, and Illinois, they are particularly hard-hit by well-known industry pains like price compression.
Comparing the first three quarters of 2022 to the same period in 2021, medical and recreational retail sales decreased 13% in Washington, while market declines in Oregon and Colorado were made worse by including patient and consumer sales data.
But why are the cannabis industries in Oregon and Colorado going through worse downturns than one in Washington, which is just as advanced?  Is the black market growing in those states as consumers get more information? Is the psychedelic boom partly to blame for cannabis sales slowing?
Colorado and Oregon are likely loss leaders for a variety of reasons, according to the researchers. Oversupply may be a factor, as both have made headlines this year for similar problems. To help with a crowded industry, Oregon expressly enacted a licensing restriction until 2024. Certainly, pricing is a problem in each of those markets. Additionally, it could be said that Oregon and Colorado both experienced some of the biggest sales spikes during the epidemic, making them, in a sense, the hardest hit during the market correction.
COLORADO
During the pandemic boom, Colorado's monthly sales averaged roughly $192 million from March 2020 to May 2021, a 35% increase over the $145 million monthly average of January 2019 to February 2020. (a pre-COVID baseline). Medical marijuana sales in Colorado continued to drop as the recreational market boomed.
Colorado's combined adult-use and medical cannabis sales monthly averaged close to $150 million during the first 10 months of 2022, significantly less than the boom period but slightly higher than the pre-pandemic market. This is due to the post-pandemic market correction.
Colorado's median market rate for raw dried flower from grower to retailer reached a quarterly peak of $1,721 per pound during January 2021, which indicates a price reduction. By October 1, 2022, the rate had dropped by about 62% to $658 per pound, the lowest level seen since the state's adult-use market opened in January 2014.
OREGON
Data from the Oregon Liquor and Cannabis Commission show that monthly sales (for both adult-use and medical purposes) peaked at around $111 million in April 2021 but have since slowly decreased to less than $80 million in October 2022. (OLCC).
During the pandemic boom, Oregon's monthly sales averaged more than $99 million from March 2020 to May 2021, a 49% rise from the roughly $67 million average from January 2019 to February 2020. (a pre-COVID baseline).
Oregon's combined sales of cannabis for adult use and medical use during the first 10 months of 2022 averaged approximately $84 million, reflecting the post-pandemic adjustment.
NEVADA
Different state-legal cannabis marketplaces may experience sales growth or losses depending on a variety of factors, including market maturity, oversupply, price compression, decreased demand, the black market, basket sizes, licensing arrangements, taxation, and a host of other variables.
Pricing was a major factor in the legacy markets' poor sales performance in 2022. The average basket size in Nevada, which we classify as a mature market, has decreased by 12.6% over the past year, although the average discount has climbed by 7%.
The price per product unit, such as the price per gram or milligram, decreased almost everywhere, which reduced the basket size.
Additionally, businesses are offering steep discounts in an effort to offset their low-profit margins by attracting more customers. But that only results in greater price compression, extremely thin margins, and lower sales volumes.
WASHINGTON
Washington State's adult-use cannabis market, which is the second-oldest in the US, has experienced a wide range of recent events, including wildfires in 2020, a heat dome in 2021, and a fatal shop shooting in 2022.
The Evergreen State has also managed to mitigate the effects of the post-pandemic adjustment compared to some of its competitors, particularly Colorado, a fellow pioneer that also introduced adult-use sales in 2014.
However, Washington's growth in average monthly sales during the pandemic, which was 33% higher than pre-pandemic monthly norms, parallels Colorado's 35% increase in sales. However, as per data from the state's Liquor and Cannabis Board, price reduction has driven Washington's retail statistics to a 13% year-over-year decline during the first three quarters of 2022.
CALIFORNIA
In spite of an adult-use sales debut that closely resembled Massachusetts, California's cannabis retail business was caught in an unusual pattern in 2022, moving closer to a few of the more developed Western economies.
California's adult-use dispensaries made a little over $4 billion in sales during the third quarter of 2022, down 7.5% from the same time in 2021, according to the state's Department of Tax and Fee Administration (CDTFA). Massachusetts, meanwhile, has had a 13.5% increase in sales through the third quarter of 2022 despite launching its legal adult-use market 11 months after California.
BOTTOM LINE
The decline in sales all over the cannabis industry comes mainly as a result of market correction from the hiked sales during the pandemic period. And it is being felt the most by states/parts of the industry that sold the most during that period.
WEED SALES ARE DROPPING, READ ON…
CANNABIS SALES DROP BUT PSYCHEDELIC SALES ARE BOOMING?